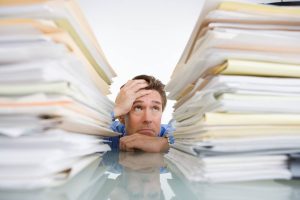 As a business owner, you face daily challenges of planning your business, balancing your profits, finding customers and managing your staff. Due to their expanding level of responsibilities, many business owners rely upon automated processes in order to contain costs and optimise work time.
What is Business Process Automation?
Business process automation consists of integrating applications, resources and software applications throughout your business to automatically manage and complete necessary tasks. If you are operating a cleaning business you many not be able to assign a machine to clean a toilet, but you can implement software that automatically calculates the overtime and penalty rates for your labour force.
If you can implement in your business automatic job costing, labour force management and work time record keeping, not only will you eliminate the chances of human error but there are flow on benefits.
Benefits of Business Process Automation
By substituting human vulnerabilities with the accuracy of a computer you will be directly increasing your profits.
Greater job costing capabilities will provide you with more accurate data as your company moves ahead.
Labour costs are reduced and you can tailor your workforce to focus on essential items that can not be automated.
So now let's drop the theory and get specific. How can you implement a practical automated time clock system into your business?
The key is – calculating time clocks.
Non-calculating time clocks will record the working hours of your staff but will leave all of the tedious calculations up to you. The difference in the initial cost between a non-calculating and calculating time clock is insignificant when you consider the benefits.
Every hour that you pay someone to calculate your staff's work hours is wasted money.
But now that you know the easiest way to integrate an automated business process into your company, which specific time clock will work for your business?
Who Is Easy Clocking?

There are a lot of options on the time clock market that utilise seriously advanced algorithms to practically eliminate all of the work in your payroll process. In Australia two of the leading companies are Easy Clocking and FingerTec.
FingerTec is a Malaysian company that was one of the first manufactures to incorporate biometric fingerprint recognition capabilities into their time clock units. They have an extensive collection of time clock units that are suitable for companies of all sizes.
But there are a lot of articles around that highlight FingerTec time clocks. On the other hand, there is not a lot of information in Australia about Easy Clocking. They have only recently started retailing in Australia (through websites such as Time Clocks Australia), which is surprising as they are massive in America.
How massive?
Used by over 50,000 companies including Nissan, Hilton, Shell, Holiday Inn, GM Pizza Hut and McDonald's.
To put that into perspective, Easy Clocking claims that they have been used to calculate more than 1 billion hours for more than 1 million employees.
So you could say that they have stood the test of time. Or should that be "they have stood the test of time clocks"?
Since 2006, Easy Clocking has been researching, testing and manufacturing all of their time clocks and software in the United States of America. By focusing on innovating new systems and improving existing systems, Easy Clocking has become one of the brands most trusted by Human Resource professionals.
With an enormous range of biometric, proximity card, mobile, USB and web based time clocks, it can be intimidating trying to identify which time clock will work best for you out of the Easy Clocking range.
To make it simple we are going to highlight the EC200 Time Clock.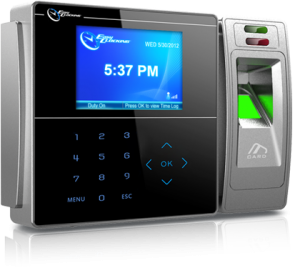 The EC200 is the basic model in the Easy Clocking biometric range. It is not suitable for businesses in dirty environments as the fingerprint sensor can not handle dirty fingers. Other time clocks in the Easy Clocking range have better fingerprint sensors for work environments that are wet, oily, dirty or greasy by utilising advanced polarisation methods.
Why The EC200 Fingerprint Sensor Is Brilliant?
The easy to way to describe how the fingerprint sensor in the EC200 works is that it uses a light sensor system like you may find in a DSLR camera to read the outer layer of the fingerprint. This enables the system to quickly identify staff fingerprints. Staff time is not wasted filling out time sheets. Clocking in and out is quick and hassle free, this ensures that introducing the system into your business is easy.
The bottom line benefit for your business is that you can be sure that you are accurately paying your staff for the hours that they have worked. The biometric technology eliminates buddy punching from the workplace.
3 Reasons You Will Love The Easy Clocking EC200 Time Clock
1) LCD Display
Easy to read LCD display allows staff members to quickly clock in and out. Messages can be easily shared with every member of your business as they come to work.
2) Wireless and Paperless
There is no point introducing a time clock into your business if it does not simplify your daily procedures. The Easy Clocking EC200 is wifi enabled and transmits all information without the hassle of extra wires or paperwork. The standalone operation is one of the reasons why so many Australian businesses love this time clock.
3) Made In The USA
Quality components and expert workmanship. If you buy a poor quality time clock, you are just introducing pain and hassle into your business. Though Easy Clocking time clocks are not the most affordable units on the market, the reliability and durability will make up for the extra initial investment.
Who Is Bundy Time Systems?

Bundy Time Systems is an Australian time clock retailer that has been helping Australian businesses identify, purchase and repair time and attendance systems. With an immense range of time clocks from Max, Amano, Seiko, Easy Clocking and FingerTec, Bundy Time Systems has the ideal time clock for businesses of every size.
The experienced staff take the hassle out of searching for the best type of time clock for your business by communicating in easy to understand language without using all of the industry jargon.
The Bundy Time Systems website provides all of the information you need to install a time and attendance system in your business. The easy to use website allows you to explore the entire range of job costing systems, biometric time clocks, time cards, card racks, calculating time clocks and accessories.
If you have any queries, call the team direct on 1800 703 901 and the time clock professionals will be happy to assist.
1 Lindon Ct, Tullamarine VIC 3043
www.bundytime.com.au
1800 703 901
If you would like easy window cleaning, rely on Window Cleaning Sydney!